8/27/11 Update: Harley has posted a rebut­tal. I rec­i­p­ro­cated. Read here.
Harley "Ability44″ Dis­hon seemed like a decent fel­low human. He was intro­duced to me via a mutual friend quite a while ago and was in the mar­ket for some web devel­op­ment work. While he didn't quite have a clear cut goal yet, he was will­ing to pay, and truth­fully that was all that mat­tered since we could ham­mer out the details as we went on. Web devel­op­ment is my gig after all. It's what pays the bills.
I tend to run an infor­mal oper­a­tion. Min­i­mal con­tracts, work by the hour, and just that sort of jive. In addi­tion I try to be as fair and per­son­able as pos­si­ble. Host­ing client sites for free, offer­ing access to select source files, etc. The nice guy.
Well, shame on me for assum­ing peo­ple wouldn't take advan­tage of that. Let me explain.
The Project

Harley was look­ing to cre­ate [yet another] RuneScape fan­site, this one enti­tled MyRuneLog. "One that would be dif­fer­ent," he explained. It would have such things as voice chats, Jagex-sponsored con­tests, and a boat­load of other crazy things. Some of these things, I responded, were damn near impos­si­ble and incred­i­bly imprac­ti­ca­ble.  So some of the ideas were shelved, but many remained on the to-do list. We had no choice but to oblige.
We went with it though. By "we", I mean Josh Wel­ham and I. It should be about time to intro­duce him into the story, I sup­pose. Josh spe­cial­izes in back-end code, and was brought in once the project began to creep beyond my scope of exper­tise. He's pretty bril­liant at PHP, putting most of my stuff to shame. Any­way, he would han­dle that stuff while I would work on the front-end and design aspects of the MyRuneLog project. We had a pretty good gig going.
A lot of work had to be done. Data­bases needed to be con­structed, core scaf­fold­ing laid out, and other fairly inten­sive stuff. This wasn't your typ­i­cal blog or per­sonal web­site. This would be best described as a mega-site  with large amounts of data being added/moved around con­stantly by mul­ti­ple par­ties. Josh's brain­child really — he built it pretty much from the group up. It ended up being pretty impres­sive from a developer's POV. If you'd like an idea of what I'm talk­ing about, take a look at Zybez, who would have been the competition.
The Down­turn
Up until March, 2011, noth­ing seemed askew. Harley was pay­ing his invoices on time and work was con­tin­u­ing as expected. Then he began to lag behind. He cited job/moving prob­lems, which I believe[d], and would have a hard time mak­ing pay­ments. To "work with him", I set up a monthly pay­ment plan: $75/mo (and later bi-montly) and our ser­vices would con­tinue as usual. Damn cheap if you ask me — most cable/phone plans are that price. Hon­estly, any other firm would just drop the client out­right at that point. We wanted to work with him though since we knew no one else would be able to carry out "his dream" besides us. And yes, he did say that MyRuneLog was his dream — more than once.

The monthly pay­ment plan worked… for about a month. Then he began lag­ging even fur­ther behind, until it was finally four months later and he was ~$3,000 in the hole. We were done. He con­tin­ued to cite prob­lems with jobs but it was time to call him out on the utter B.S.
Con­fronta­tion
Josh and I spoke to each other and agreed that he was never going to pay at this rate. What we decided to do was offer him a reprieve. A chance to wipe his debts clean.
We offered to take own­er­ship of the site (which we had forged our­selves), tak­ing in 100% of the ad rev­enue, while he remained on as a full admin­is­tra­tor and tak­ing in 75% of other rev­enue streams. Dona­tions, shirts, and other merch would be his money mak­ers really.
This was a great deal for him. His sev­eral thou­sand dol­lar debt to us would be gone for good and he would still be able to be a major part of his "dream". Not to men­tion the money he would be mak­ing from other avenues. And this would be a good deal for us as our hard work would not go unre­quited and we would be able to con­tinue work­ing on some­thing that we had an actual, pal­pa­ble invest­ment in.
It was a good solu­tion. Every­one would walk away happy, we imag­ined. There was some nego­ti­at­ing that went on as he con­sid­ered it, but that ended up being point­less. Harley chose to go against us with­out our knowl­edge and essen­tially stab us in the back. No pay­ment, no deal, no respect.
Today
Harley, with his pal "l2rushnub", believes he can run off with our out-of-date source code and resume work on the site. The source code in ques­tion is many months out of date and pretty much worth­less con­sid­er­ing how much improve­ment the cur­rent revi­sions have made. But it's still our source code that he didn't pay for. Theft.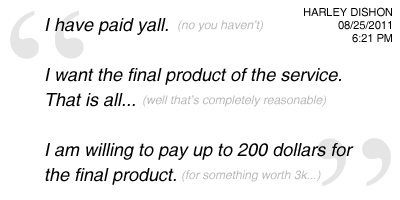 But good luck to them. I think Harley will get his "dream", although likely sub-par and with much more back­stab­bing to go. I just hope "l2rushnub" isn't being offered pay­ment, because he damn well won't be get­ting it.
Harley is a self­ish cheat. From the begin­ning he was always con­cerned with hav­ing his name, Ability44, attached to the site (despite every­one else in his com­mu­nity doing the work, might I add). He wanted peo­ple to know that he was the great cre­ator. That he was the wise entre­pre­neur. That he was the site. In real­ity he's a self-absorbed, self-entitled kid that believes he can get every­thing by cheat­ing his way through life. My inter­pre­ta­tion of the human con­di­tion has dete­ri­o­rated because of him. For fuck's sake, this nar­cis­sist has "Ability44" tat­tooed on him­self.
I truly hope his friends and fam­ily see what he is and respond as such — don't let him take advan­tage of you. We bent over back­wards to help him and were stabbed in the back.
He screwed over Josh and I — not to men­tion sev­eral oth­ers (for exam­ple, Robert, if you knew him).
Why I Wrote This
I'd like for this to serve as a warn­ing. Always have a damn con­tract. Never go beyond project scope. And for the love of god, never let the project get any fur­ther if the client isn't pay­ing.
Don't let peo­ple take advan­tage of you, even if you do end up look­ing like the bad guy as a result. Peo­ple like this deserve to be shut out. He ended up wast­ing 9 months of our time.
More specif­i­cally, I want this to be a warn­ing for peo­ple research­ing Harley Dis­hon. When peo­ple Google his name (friends, prospec­tive employ­ers), they should be aware of his extreme lack of respect and morals. At the time of writ­ing he lives in Vir­ginia, although I won't share his spe­cific address pub­licly. More detailed infor­ma­tion is a few key­strokes away, is all I'll say.
Records
I'm just going to include some text con­ver­sa­tions between myself and Harley. Some of our cor­re­spon­dence was via Skype calls, so I don't have records of those. These are un-edited, although you'll just have to take my word on that — sorry.
They're in chrono­log­i­cal order and have some inter­est­ing tid­bits of information.
The Rebut­tal
Harley has cre­ated a topic on his forum in response to this blog post. You can read it here in case he removes it. Any­way I'll be going line by line and dis­sect­ing each of his points since there's just so much log­i­cal inep­ti­tude to go at it all at once. Plus I'm not really in the mood for writ­ing. Here goes:
In the last few days I have found out that what I have paid for hours of work on is not even com­ing back to me in full blast… Not many of yall know but I have put out $1.2k so far for this site to be devel­oped, and was being asked for 3,000(USD) more,
No, you paid ~1.3k of a ~3k TOTAL debt (com­bined between Josh and I). We never asked for 3k more. You only owe[d] ~1.7k.
on a project that I was told would only take 60 hours (Which is rea­son­able for that amount of work) but turned into 210 hours total…
I'm not sure where you got that 60 hour fig­ure. I know I ini­tially quoted you for ~100 (but let's not let turn this into he said, he said), which I also added was a rough esti­mate since you weren't exactly sure what you were after with the whole project to begin with. In fact it wasn't a bad guess con­sid­er­ing the ini­tial project scope. Your con­stant requests for addi­tions and lack of fore­sight was the rea­son why that num­ber increased. You could have halted the project at any time. In fact, I urged you to mul­ti­ple times (see it in this screen­shot) when I noticed that you were lag­ging behind in pay­ments. You replied by say­ing you'd have our pay­ment ready soon, every sin­gle time, and asked us to con­tinue work­ing. Being the nice guys we are, we obliged. And it's not like you had no idea how much work was being done — you had easy access to all of our timesheets (detail­ing work being done, times, and total invoice amounts) on Fresh­books. Stop try­ing to shift the blame on us.
I have just recently cut ties with the web devel­op­ers which I have been pay­ing to work on this site, for 9 months now.
Haha, no. You haven't been pay­ing for nine months. Your last pay­ment was in early June and it's now late August. The project offi­cially began in Decem­ber of 2010. Even in May you were strag­gling behind in pay­ments. See this screen­shot.
And have also been informed that the full site cost for devel­op­ment is around $600 tops. (This has been assessed by 2 web devel­op­ing com­pa­nies already) So put sim­ply I was took for a scam.
I'd really like to ask these "devel­op­ing com­pa­nies" what exactly they'd be charg­ing $600 for. A Joomla set up with a slightly cus­tomized Theme For­est design? I don't want to list every­thing, but here are con­densed exam­ples of what Josh and I ended up doing for Harley, which truth­fully is worth much more than $3k con­sid­er­ing how much he would have made from the site over time:
Forum skins that were custom-made (IP.B 3.1.x and another for 3.2.x)
Unique design and code­base cre­ated (with revi­sions) cus­tom for MyRuneLog
Custom-made, RuneScape tai­lored CMS
Kind imple­men­ta­tion of your [some­times awry] ideas
Ever­last­ing sup­port and con­tin­ued devel­op­ment, even after your pay­ment hiatuses
Deep forum inte­gra­tion beyond just user basic profiles
As all of you might of noticed In recent days… MyRuneLog has came back online, today an attack from a fake anony­mous mem­ber was exe­cuted (no ones pass­words were com­pro­mised). We would just like to say we have noth­ing against gov­ern­ment or any sort we are mind­ing our own busi­ness and would please advise the hack­ers to stop. We are a rs fan site and that is all we plan to be.
Well that's just kind of funny — sorry. Noth­ing more to add from me.
A very unpro­fes­sional post was made by one of the devel­op­ers you can find that here.
There's so much wrong with that state­ment but I'll just men­tion two things:
This is my per­sonal blog. Not a pro­fes­sional site. I post mus­ings and rants here, not love son­nets or cre­ative writ­ing projects. Chris Coyier has the same approach to his per­sonal site. If some­thing irks me, I'll share it.
We stopped being pro­fes­sional when you stopped tak­ing us seri­ously. Although not directly related, you are one of the most unpro­fes­sional peo­ple I've ever worked with. Your gram­mar is ter­ri­ble and you lack any sort of seri­ous finesse (read the chat logs for a sam­ple). You don't get to call other peo­ple unprofessional.
Thanks for the traf­fic though!
It goes into his full side of things but mostly slan­der­ous things to me of course.…
Well I'm def­i­nitely not going to praise your mag­nif­i­cence, am I? And do you even under­stand what slan­der is? I didn't mis­rep­re­sent you beyond rea­son­able inter­pre­ta­tion nor make up facts. None of what I said is mis­lead­ing and is appar­ent to any­one will­ing to inves­ti­gate your character.
Don't even got a good pic of my Tat.. I mean.. Wtf? lol Here's a good pic­ture of it though ;p
I apol­o­gize about that tat­too — find­ing an embell­ish­ing pic­ture of some­thing so sad wasn't exactly impor­tant to me. I don't even know why it is to you.
Also on the blog entry he decides to put out per­sonal con­ver­sa­tions (Which is inva­sion of pri­vacy, con­sid­er­ing he did not alert me that chats would be pub­licly shared) between the both of us, mostly they are one sided of course.
Hardly inva­sion of pri­vacy. If you're refer­ring to the Elec­tronic Com­mu­ni­ca­tions Pri­vacy Act — that only applies when mes­sages are in tran­sit. After they've been received it's unre­stricted. We don't have a con­fi­den­tial­ity agree­ment pre­vent­ing me from post­ing logs. I didn't hack into your com­puter and take the chat logs either. Those were between us and did not need to remain mutu­ally exclu­sive. I would be okay with you shar­ing your chat logs between us, as well.
In addi­tion, post­ing the chat logs is just one of the many forms of proof I have to sup­port my/our claims. You, if I recall cor­rectly, have noth­ing but your word.
With all of that being said and out of the way we are under new devel­op­ment by a com­bined power of l2rushnub and myself and the site should be up within the next cou­ple weeks (yea… 9 months com­paired to a cou­ple weeks, hope yall are happy about that!) I mean… In 2 days me and l2rushnub were able to get these new forums with the skin up and run­ning… So we will take much less time on a bet­ter outcome.
So let me get this straight…
Install IP.B -> 10 minutes
Install forum skin and change the logo -> 5 minutes
Cre­ate crappy splash screen in Pho­to­shop -> 20 minutes
Cre­at­ing an expan­sive, respon­sive, inte­grated, cus­tom CMS for a spe­cific niche web­site -> two weeks? give or take a few months maybe.
??? -> PROFIT
I don't even know how set­ting up the forum took two full days. At that rate it's going to be a year until you have any sort of pal­pa­ble website.
Thank you every­one who has read this topic and I hope you under­stand what is going on.
– Harley
Best of luck to you.
Clos­ing Thoughts
In my con­ver­sa­tions with Harley I had to use a lot of analo­gies to explain things to him since he often did not under­stand. One of those was say­ing we're kind of like a phone com­pany — "you con­tinue to pay us or we'll ter­mi­nate your ser­vices". He likes pick­ing apart my analo­gies, and this par­tic­u­lar one (which remem­ber, was made up on the spot) he LOVES to destroy. He explains that a tele­phone bill is "pro­rated", which to him is a magic bul­let — effec­tively mak­ing all of my pre­vi­ous state­ments invalid. Pro­rated essen­tially means means adjusted pro­por­tion­ately — which we admit­tedly do not do. How­ever that's hardly detri­men­tal - I'm sure he under­stood what I meant. Pick­ing apart my analo­gies doesn't imme­di­ately nul­lify our facts nor make every­thing here invalid — you screwed us over. Plain and simple.
Also, regard­ing our hourly pay­ment plan. I over­heard another per­son call­ing that a "bad busi­ness prac­tice". Not at all if you con­sider some things spe­cific to this project:
Harley was very unsure as to what he wanted for the site to begin with (he had no proposal/plan in place at all)
He wanted to start ASAP
By charg­ing hourly, we would be able to add things as we went along. If we had a fixed amount (50% up front, 50% after for exam­ple), then we would need to re-draw that con­tract and agree on a new fixed price every time he wanted some­thing else
No other firms he con­sulted would take his project for a price he liked
By charg­ing hourly we not only were able to sus­tain con­tin­ued devel­op­ment, but also build the site just as Harley wished with min­i­mal issue. I've done fixed price work before and hon­estly it just puts every­one in sub-optimal sit­u­a­tion, unless the site is some­thing sim­ple and straight­for­ward like a blog. For some­thing as expan­sive as MRL though — hourly was the way to go.
About not get­ting what he paid for. Absolutely false. Josh sent over all of the mod­ules, data­bases, and core files that he paid for (28 hours worth, to be exact). As for me — he already has every­thing. He admit­ted to hav­ing the source code from when the site was hosted on the GoDaddy server (see chat logs), which includes more up-to-date source mate­r­ial than what he would receive from me. Those files are roughly dated to June, while I stopped receiv­ing pay­ment in May. Truth­fully I had com­pleted most of the work by then any­way (I do front-end and design work, so that stuff came first).
Regard­ing legal action: we did have a ver­bal agree­ment, which is still legally bind­ing (but admit­tedly not as solid as a con­tract). All we would need to do is prove that he was going along with our agree­ment, which would be incred­i­bly easy with our back­log of invoices and other records. I'll be con­sult­ing some pro­fes­sion­als in the com­ing days, but at this time seek no lit­i­ga­tion unless pro­voked. More spe­cific records (invoices for exam­ple) are being with­held as a precaution.
I can be a vin­dic­tive ass, I know, but we don't want to ruin this guy's life. Let's let sleep­ing dogs lie now, eh?