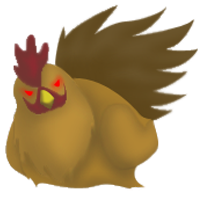 It began as a good idea, and a month later the ball was rolling. Max, Alec, Cameron, and I were going to col­lab­o­rate on com­bin­ing their majorly active sites into one large one. Sev­eral hun­dred thou­sands of vis­its a month was the plan, and we actu­ally reached those num­bers it in the month of  May. This would be a big ven­ture for all of us, but soon things went sour and 3 months later the site was announced to be clos­ing until fur­ther notice. Why, you ask?…
If you're not aware of what EvilChicken is, you should go ahead and skip this entry. Things are going to get in-depth and it'll be hard to under­stand at points if you weren't there from the beginning.
Before I go on, I'd just like to pref­ace this by say­ing that I'm not try­ing to shift any blame around, but instead out­line the short­com­ings and faults that led to the site's demise. This should also serve as good ref­er­ence mate­r­ial for any­one that wishes to start a large, com­mu­nity ori­ented site.
Alright, so I'm just going to dive in and out­line what went wrong, what went right, and what needs to be done before the site comes back up again.
What Went Wrong
Traf­fic

On the first day the site was online, Max and Cam both uploaded adver­tise­ment videos to their YouTube accounts. Com­bined, they have over 150,000 sub­scribers. Less than 1/15th of that was all that was needed to take out the sin­gle server.

Back End Sys­tems

While it wasn't evi­dent to the end users, the sys­tem that ran most of the site was crip­pling out abil­ity to admin­is­ter it. We took a short­cut and ran Joomla on a site that needed a much more spe­cial­ized code­base. We ini­tially planned on cod­ing our own con­tent man­age­ment sys­tem — but this was scrapped due to impa­tience. Once the site was up, we learned that

you can't run a large, com­pre­hen­sive site on Joomla

with­out hit­ting some big walls. We had a stren­u­ous time expand­ing the site (games room, item data­base, etc.) because we didn't know how the code for Joomla was setup (since we didn't write it ourselves).

Staff

While some may take offense to this, I must be hon­est and say that the staff was, over­all, poorly man­aged. Some of those who were active (and a lot weren't), didn't know what their job was because it wasn't clearly out­lined. Yes, it is com­mon knowl­edge that the job of the mod­er­a­tor is to medi­ate con­ver­sa­tion — but there still were some incon­sis­ten­cies between staff mem­bers. A bit higher up in the chain, you have the staff rank enti­tled "Owner". This should be elim­i­nated and be com­bined with admin­is­tra­tors. It should be rec­og­nized that those peo­ple do indeed own the site, but they should not be placed at the top of the hier­ar­chy for doing lit­tle in [forum] moderation/administration. Sure, they man­age expenses and the like — but that's not some­thing that Mint can't do. Some mem­bers of the staff seemed dwarfed by ranks such as owner — result­ing in lit­tle moti­va­tion and spite against those above them. It's hard enough to put in vol­un­teer hours, but it's even harder when those above you are get­ting the spot­light and even accept credit for the work you did, leav­ing you with lit­tle compensation.

Design

Yes, the design did look pretty — for Fire­fox users. A higher per­centile of users still use Inter­net Explorer, and when your site looks like a bomb went off when they visit, they aren't going to change their browser over to Fire­fox just to use it. In terms of expand­ing upon the design, it would be very much a pain. Each lit­tle rounded box was encased inside a dozen other divi­sions, mak­ing for very con­fus­ing and messy code. I'm sure even the orig­i­nal designer of the theme has a hard time wal­low­ing through the code. An in house, site-specific design would have taken a lot more time to make, but would pay­off in the end due to the under­stand­abil­ity of the code (since we wrote it our­selves!). Like the back end sys­tems point ear­lier, this was scrapped due to impatience.
What Went Right
Adver­tise­ment


Most sites strug­gle for weeks attempt­ing to estab­lish a user base. EvilChicken, how­ever, was reached by thou­sands within hours of launch­ing the site. This was because of the use of viral/social media. If one influ­en­tial and pop­u­lar user uploads a video and asks the view­ers to help adver­tise it too — they will. Dozens of videos were made by com­mu­nity mem­bers as a result.

Con­tent

When a vis­i­tor comes to a site, it's usu­ally because of either hype, or spe­cific con­tent. If said con­tent is non-existent, non-unique, or is sim­ply not up to par — they will leave within sec­onds. In the case of EvilChicken, con­tent on the site was sub­mit­ted by the com­mu­nity. To be more accu­rate, the con­tent came from the RuneGamer com­mu­nity — EvilChicken's [main] pre­de­ces­sor. The large amount of guides, tips, and the like were moved over from RuneGamer to EvilChicken — giv­ing the site a bit of a head start.
What Needs to be Done
Rebrand­ing

The EvilChicken name has some what been tar­nished with embar­rass­ment. The site was down the first day, then down again dur­ing the server upgrade, and then down once again dur­ing the domain trans­fer. When it was up it dis­played improp­erly for half of its users.

Closer Look into Staff

Clear roles need to be laid out for staff mem­bers to fol­low. While it may sound restric­tive, it will dra­mat­i­cally save time and make a much smoother sys­tem for both the users and the staff. Inac­tive staff mem­bers should be pruned and the por­tion of the staff that put in the most ded­i­ca­tion should be rec­og­nized and rewarded, either in the form finances or in proper attribution.

A Com­plete Rework

A new name won't be enough to restore rep­u­ta­tion. As was ini­tially planned with EvilChicken, the new site

must

have it's own con­tent man­age­ment sys­tem and design that actu­ally suits the needs of both the admin­is­tra­tors and the users. Look around at some of the most pop­u­lar sites and you'll see that they don't run Joomla or Dru­pal (ok, fine, a lot run Word­Press though).

Grad­ual Roll­out

When the site is totally com­plete, it needs to be rolled out slowly to users. Prefer­ably by word of mouth. This way, the server hard­ware can eas­ily be scaled to suit the needs of the site. It should also be noted that the "biggest" or most "pow­er­ful" server doesn't need to be used. If a con­tent data net­work (like S3) is used then band­width over­ages can be averted and HDD space can be conserved.

Col­lab­o­ra­tion

The staff needs to all join one con­fer­ence and lay things out. What con­tent will be on the site, who's doing what, the cur­rent progress on mile­stones, and what's ahead for the future all need to be dis­cussed… peri­od­i­cally. In addi­tion, the imple­men­ta­tion of col­lab­o­ra­tion soft­ware such as activeCol­lab or DimDim would be very helpful.
Many peo­ple invested many hours into this site and to see it go is a shame. When it does return we will have learned from our mis­takes and fur­ther, embar­rass­ing mis­takes may be averted.
I'm going to close this by reit­er­at­ing that I am not try­ing to shift blame. I do indeed have a lot to do with most of these points, for bet­ter or worse. I'm sure I've left many other things out, but those should be saved for another post.