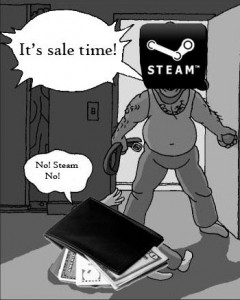 I'll try and update this every day until the 10th.
Just a fun list. I'll try and rationalize each purchase just so I don't buy every game I see in the lust that always seems to ensue from a Steam sale.
Purchased (descending by most recent):
Frozen Synapse: Soundtrack Edition [2 pack] ($15 – saved $15): I watched this video, and it pretty much sold me. My kind of game!
Mount and Blade: Warband ($7.50 – saved $22.50): Everyone says this is a must-buy because of the improved graphics and gameplay over the previous installation.

Dragon Age: Origins – Ultimate Edition ($10 – saved $20): I loved Mass Effect and these Bioware guys pretty much have morality based RPG pegged.
Arma II: Combined Operations ($22.50 – saved $22.50): A simulator approach to the FPS genre. I think it'll be interesting.
The Polynomial ($3.40 – saved $6.60): Interesting concept for a music game, a genre that I love. Plus it's SteamPlay so I can throw it on the Mac! Yay!
Assassin's Creed II – Deluxe Edition ($6.80 – saved $13.20): I'll be playing this after I finish the first Assassin's Creed.
Bioshock 2 ($5 – saved $15): Again, I'll be playing this after I finish the first installment.
Team Fortress Classic ($1.20 – saved $3.80): This completes my collection of Valve-made games! Yay!
All of the Magicka DLC ($6 – saved about $19): I've only played the game with friends once or twice, but they were fun times regardless. Sure I'll throw the indie devs a few bucks. Why not!
The Final Hours of Portal 2 ($1.30 – saved $0.70): An amazingly in-depth look into Valve. I highly recommend it if you liked Portal 2 and enjoy good journalism.
Medal of Honor ($10.20 – saved $19.80): I was mostly interested in the Battlefield 3 beta key, but the singleplayer campaign looks like it would be fun as well!
Lead and Gold: Gangs of the Wild West ($1.50 – saved $8.50): Not a huge fan on wild west games/movies. I suppose I purchased this one just because it was so damn cheap. Steam wins again.
BIT.TRIP.RUNNER ($2.50 – saved $7.50): Already have BIT.TRIP.BEAT, so I thought I'd get the sister game.
Test Drive Unlimited 2 ($10 – saved $10): Looks like everything I've always wanted from a GTA/Gran Turismo crossover game. I haven't really been satisfied by any racing games thus far so this should be a treat.
Bonus free DLC (descending by most recent):
Portal 2 goggles
Team Fortress 2 shades