I was trying to find a past email thread when one caught my eye, then another, and another. It seems that for every idiotic email I had gotten in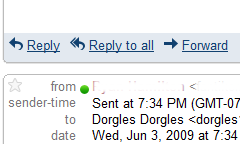 the first part of the year, I replied with a sarcastic / zealous / humorous message. I've totally forgotten about some of these so I figured it may be fun to share.
The first one comes from a person who uses the alias Dorgles. It isn't exactly hilarious, but it may serve a chuckle to a few.