It's over… and apparently it was a success. Billions (not really) of people showed up, and enjoyed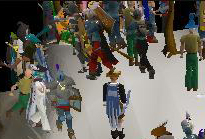 themselves… for the most part. Worlds 126 and 127 filled up completely, hours before the event even started.
I personally hung out with Regicidal1 for a while, and we went over to Clan Wars and lost multiple times. I pwned with my Mith stuff… But hey, who cares about me?
Videos and pictures after the break.