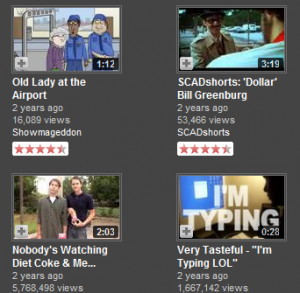 Everyone wants to relax once and a while and become entranced by the stupid humor that YouTube so graciously harbors. Once in a while, I come across an amusing video that should be much more popular than it currently is. In this post, I'll share some of those videos with less than 300,000 views (at the time of posting) that will surely make you laugh or smile. No guarantees though.
Just a warning: these videos may be stupidly funny, so your self-pride may be at risk. It also might be a good idea to watch these when you're alone, as some may be distasteful for the workplace.
1. "Fat Cat Can't Scratch it's Chubby Cheeks"
2. "Ysketball"
3.  "Kops Scontro Finale"
4.  "Dents and Dings"
5. "Police Fail to Catch Bank Robbers"
6. Let's Play a Drinking Game!
7. "Cat Flushing the Toilet"
8. "A Letter From Martha"
9. "Dr. B'Bam's Family-Style Medical Clinic"
Let me know if you liked or disliked one!