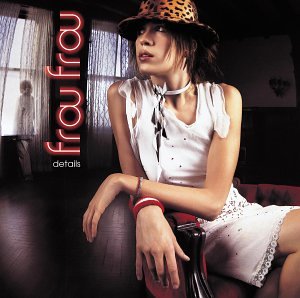 Since my last post about out­stand­ing songs, my col­lec­tion of the said genre has grown (almost dou­ble!). So, on this gloomy day, I thought I would take the time to share them with you. Unlike last time, let's jump in right away, and I'll explain why each song is great as we go.
These songs are in no spe­cial order, and as always, I'll try and make the selec­tion as diverse as pos­si­ble. If you don't like one song, just keep going though the list and you'll prob­a­bly find some­thing you can enjoy.
1. Frou Frou — Let Go — Pop
The voice in this song might sound famil­iar, because it's Imo­gen Heap's. She was in a duo back in '03, before work­ing on her own, per­sonal, projects (the album Speak for Your­self for exam­ple). You might also find the song itself famil­iar, since it was used in the 2004 movie Gar­den State. His­tory aside, this is a song you can get caught up in. There are many other great Frou Frou songs, so if you like this, take the ini­tia­tive to search for them.
2. Biffly Clyro — Moun­tains — Rock
This song was up on the top 40's for the UK not too long ago. Things open up with a piano, cli­max with some­thing totally dif­fer­ent, and end with a bang. Over­all, a pretty decent song.
3. Rui Da Silva — Touch Me — Trance
This is def­i­nitely a morn­ing song, hence why it was fea­tured on a com­pi­la­tion enti­tled In Search of Sun­rise [2]. Seri­ously, lis­ten to this song in the morn­ing while you're tran­sit­ing some­where as the sun pops up.
4. Delerium — Silence (Tiësto Remix) — Trance
I was look­ing around for some vocal trance on the YouTubes, when I came across this track. Granted, it isn't exactly an undis­cov­ered gem, but it's worth lis­ten­ing to. I pic­ture this as a good high energy running/biking song.
5. Moby — Extreme Ways — Electronic
This song was used in the cred­its in all three Bourne movies, and is one of those tracks you either like or hate. Give it a full lis­ten, and see what you think.
6. Gabriel & Dres­den — New Path — Electronic
If you're into a lot of base, check this song out. I first heard this on an episode of CSI:NY, and imme­di­ately went to Google to find out what it was. It was totally worth it.
7. Nine Inch Nails — Dis­ci­pline — Rock
The drums are laid on heav­ily in this one. You're guar­an­teed to have at least some of the cho­rus stuck in your head if you down­load this song, which was legally released along with the rest of the album (The Slip), for free by NiN here.
8. Jakatta — Amer­i­can Dream — Chillout
This song is based upon the sound­track of the movie Amer­i­can Beauty. This remix must really be good (and it is), for the Min­istry of Sound to put it out there.
9. Fluke — Absurd — Electronic
It's hard for me to describe this song, but I'll give it a shot… Lucid, base-filled techno, with deep vocals, ques­tion­able lyrics, and sweet buildups. Yeah, that cov­ers it pretty well.
10. Zaho — C'est Che­lou — Pop
Yep, here's another Fri­enchie song. The trans­lated lyrics are some­what crappy, but don't worry about them and get your­self caught up in the cho­rus, like you were meant to.
That's all for now!