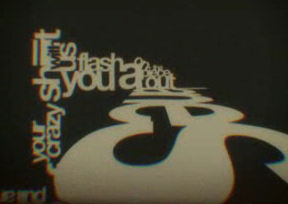 I've always loved typography used as the focal point in motion graphic videos. I've even tried my hand at making them. Needless to say, I wasn't successful due to the lack of patience on my part. However, that made me further appreciate the time and effort that these people have put into making these videos.
Sure, they're cool, but take into account that each movement of text is scripted and perhaps you will understand the almost artistic beauty of these videos.
These videos are not order in any specific way.
#1: "Still Alive"
#2: "The Big Lebowski"
#3: "Online Songs"
#4: "Typefaces Give Us Signals"
#5: "If"
#6: "Into the Ocean"
#7: "The Cigarette Is Dead"
#8: "That Was Epic"
#9: "Lions Roar"
#10: "Dane Cook"
Bonus
These videos have more imagery than typography, but the motion graphics are still present nonetheless. Of course, the cool factor remains as well.
"Non-O-Biography"
"You'll Rebel to Anything"
"Tangible Actions"